TOUR STOP #11 FIVE SISTERS BLUES CAFE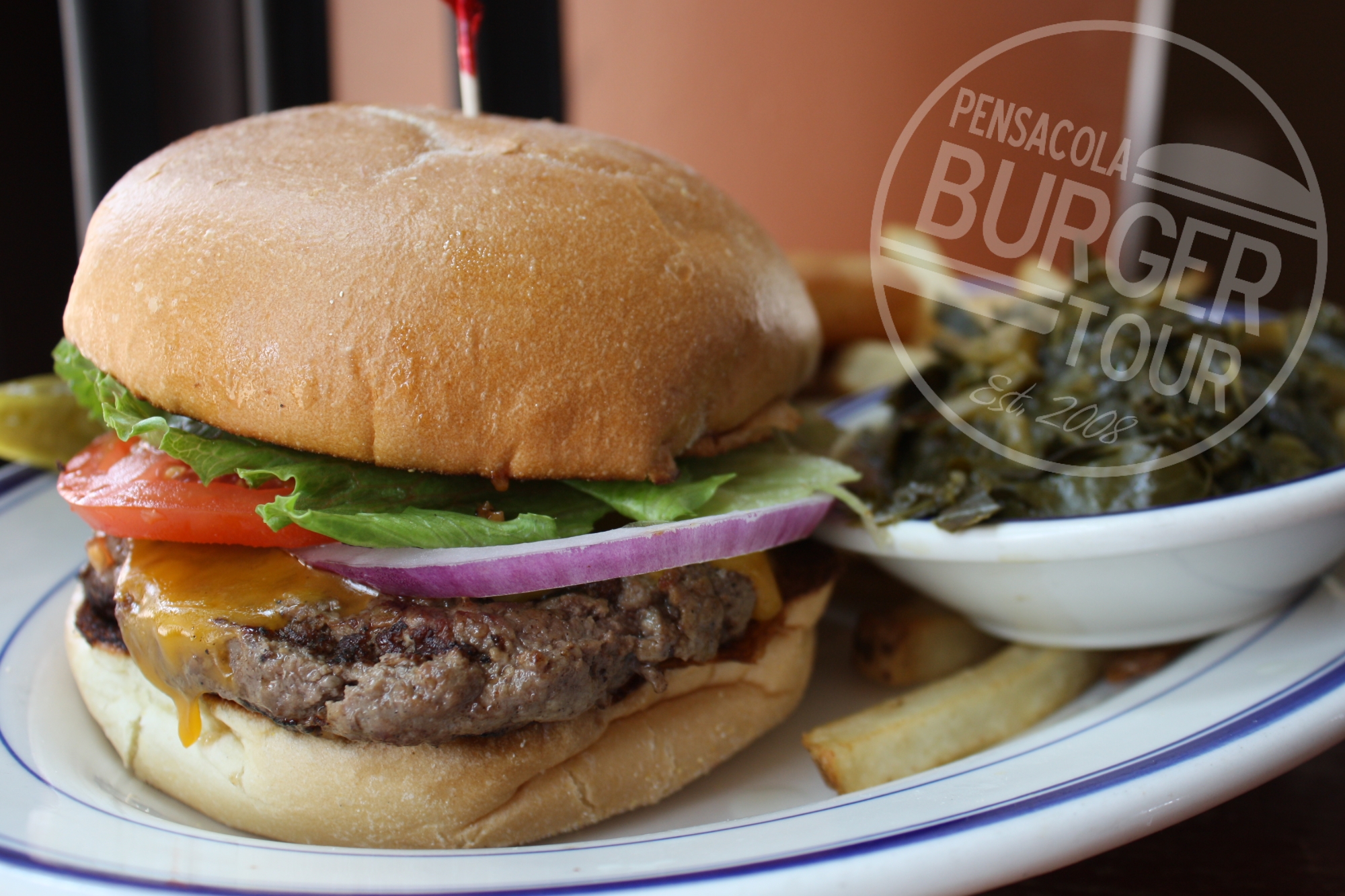 Five Sisters Blues Cafe
421 W Belmont St, Pensacola, FL 32501
1/2 lb. Good Ol' Burger $8.50
If you live in Pensacola and you haven't visited the Five Sisters Blues Café, we have two words for you. Why Not!?
Imagine BB King, Starbucks and the best fried chicken you've ever had- all in one place.  Boom– Five Sisters Blues Cafe.
With a soulful vibe and menu chock-full of Creole and Caribbean flair; this Café is the perfect place to sit back, relax and have dinner with a group of friends. The rustic brick walls and jazz décor will have you longing for a trip to the New Orleans French Quarter for beignets and a cup of coffee. Sure the live music here is great- but as you know- we aren't here for the Blues band- we're here for one thing- the beef!
The seasoned Angus Chuck cheeseburger is cooked to order and served with a giant leaf of lettuce, a nice slice of ripe tomato, red onion, and a homemade "roasted onion mayo."
It's a beautiful burger, but as you know, we only care about one thing; the TASTE.
While visually appealing- the burger had a few problems in the flavor department.  The beef, although cooked to order, drew mixed reviews. It had a great char and smoky flavor, but many felt it was dry and/or overcooked. The bun is of the large and soft type, with great "meat-to-bun" ratio; but like the meat, about half way through the burger, the bun also was found to be a bit dry and overwhelming.
The condiments were fresh and ripe, but several judges tore off the giant leaf of lettuce- leaving it on the plate like a side garnish. One tour member commented that he wished the pickle wasn't served as a spear on the side, but sliced to eat ON the burger. If we've learned one thing about these pickle lovers- it's that they want the pickle ON their burger, not the side!
In all, the FSBC burger finished with a final score of 6.83 which means it won't be winning this burger tour, but don't let that stop you from visiting this fantastic hangout.
We suggest ordering the chicken and waffles (they're amazing.)  Also, peruse their selection of fine art featuring a life size painting of Tina Turner.  It's breathtaking.
So, check out the Five Sisters.  Then check back next week as the Pensacola Burger Tour rolls on.