TOUR STOP #12 THE BLUE DOT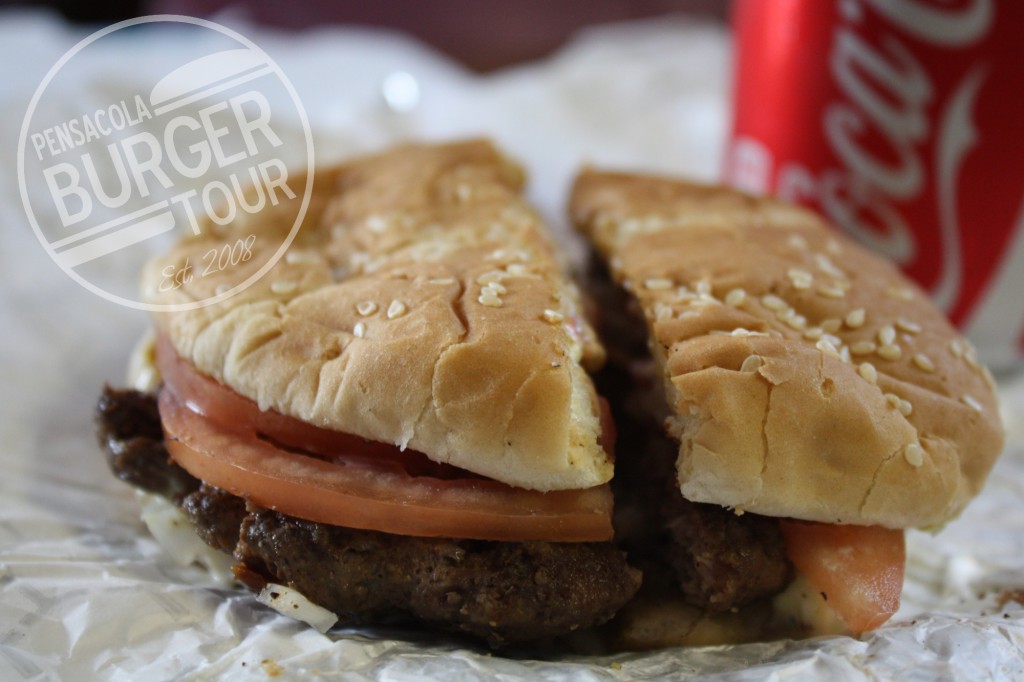 Blue Dot
310 North De Villiers Street Pensacola, FL
Hamburger: $5.58
Things are changing downtown on Devilliers Street.  Escambia County has added sidewalks, roadway improvements, street lamps, brick pavers, and new sod; it's actually quite nice.
Even the Blue Dot has a fresh coat of paint- the once drab blue is now an upbeat royal blue inside and out.
Somethings however haven't changed.  For example- it's 11:00am and there's a line of customers forming outside the door of the freshly painted Blue Dot.
The Blue Dot is the Pensacola Burger Tour's defending champion and has become legendary in Pensacola burger lore.
So, we waited patiently in line to find out if anything has changed inside the brown bag.
The wait in line seems like an eternity but when Byron finally hands you a brown bag- it's worth every second.
We quickly sat down at the picnic tables inside the Blue Dot, passed out the burgers and dove in.
There was a collective sigh of relief.  Things may have changed on the outside, but not on the inside.
This burger hasn't changed one single bit.
This is the same burger we ate on our first tour, 6 years ago.  The same burger we crowned Champion of our 2012 Tour.
Hand-formed patties, ripe and juicy tomatoes drenched in mayonnaise, fresh chopped onions scattered across the beef.
The bun is the only thing that's different.  It's always been a plain bun- but now they're using a sesame seed bun.
No big deal.  It's still soft, grilled and buttered, with a quick smear of mustard across the bottom.
As always the Blue Dot burger is a lesson in how to apply salt and pepper.
There's something about eating a Blue Dot that makes you want another one…and another one.
I know what some of you first-timers are thinking "the picture doesn't look that great."
Okay, so the burger isn't photogenic.  We can't explain it.  The burger doesn't photograph well.  Big deal.  It tastes amazing.
At the end of the day the defending champion didn't disappoint (it never has.)  The Blue Dot finished with a final score of 8.75 and may be headed into the new playoff system with a #1 ranking
But don't take our word for it, head downtown, get there early and for crying out loud- don't wear a tank top and don't ask for cheese.
Then visit our website and check back next week as the Pensacola Burger Tour rolls on.