TOUR STOP #4 THE OVAL OFFICE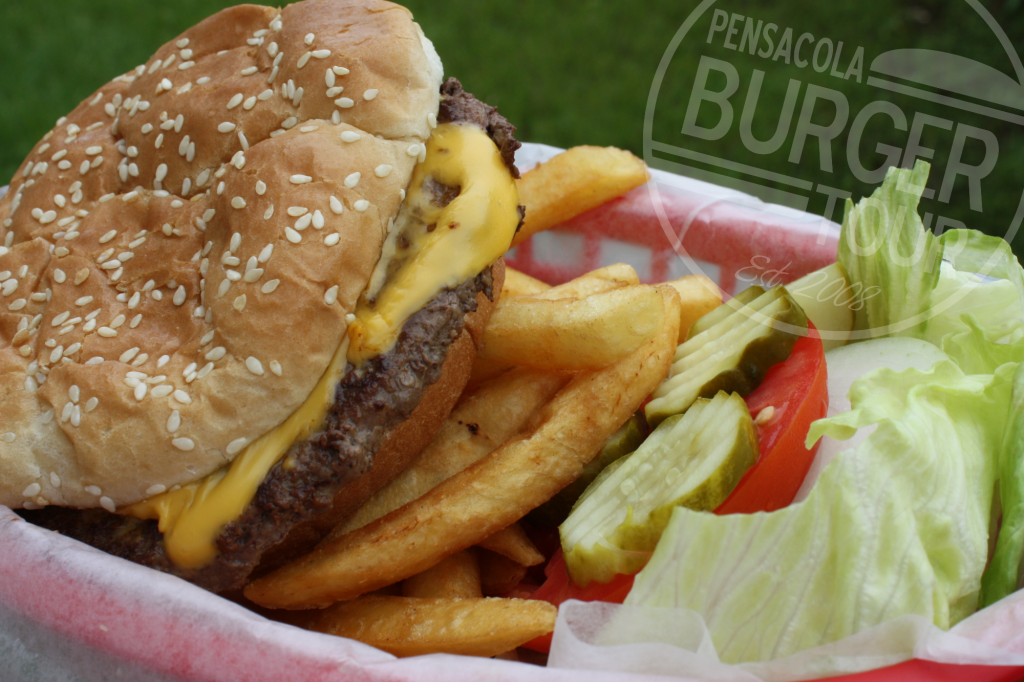 The Oval Office
2790 Avalon Blvd, Milton, FL 32583
Cheeseburger: $7.99
The Oval Office is where the Pensacola Burger Tour was born (see The Story.)
Located on Avalon Boulevard in Milton, The Oval Office has been turning out delicious hamburgers and ice cold drinks since 1991.  Walk in at lunch time and you'll be greeted by the owner Al Grinde working the grill with a smile.
The Oval Office was a Top 5 finisher in both of our previous Tours (see The Results.)
So, we had BIG expectations when we walked into this local favorite.
The burger arrives with the top bun in place and a stack of produce on the side.  Let's talk about the produce for a second; It's amazing.  Agreed by all to be "best of the Tour so far."  Fresh red tomato, cold crisp iceberg lettuce, a monstrous slice of raw onion and some amazing pickles (yes, amazing pickles.)
The tomato is sliced thick and perfectly ripened.  The onion too is sliced thick- a giant cross section of sweet, delicious onion.  Our Accountant had it right when he said "if you like onions- this burger wins."
Now, let's talk beef; Finally! a place that will cook your burger to order- medium for most panel members with a beautiful strip of pink at the center.  In addition to being cooked to order this beef is seasoned perfectly.  At last! A well seasoned patty that's so flavorful it had several Panel Members asking "What do they use to season that patty!?"
The sesame seed bun is soft and simple.  Grilling the bun may be the only thing that could improve this burger.  That, and more cheese.  Several judges felt the cheese was melted to the point it almost disappeared or became permanently adhered to the top bun.
In short, the Oval Office did not disappoint.  It delivered the same great burger we've come to expect year after year.  Keeping it at the very heart of the "Best Burger in town" debate.
The Oval Office burger finished with a final score of 7.81 which is enough to land it in first place (for now) a half point ahead of second place burger at Five Guys Burgers and Fries.
So, visit the Oval Office.  Say hello to Al be sure to give Patsy a hard time.
Check out the burger and let us know what you think.
Then check back next week as the Pensacola Burger Tour, rolls on.