TOUR STOP #8 POT ROAST & PINOT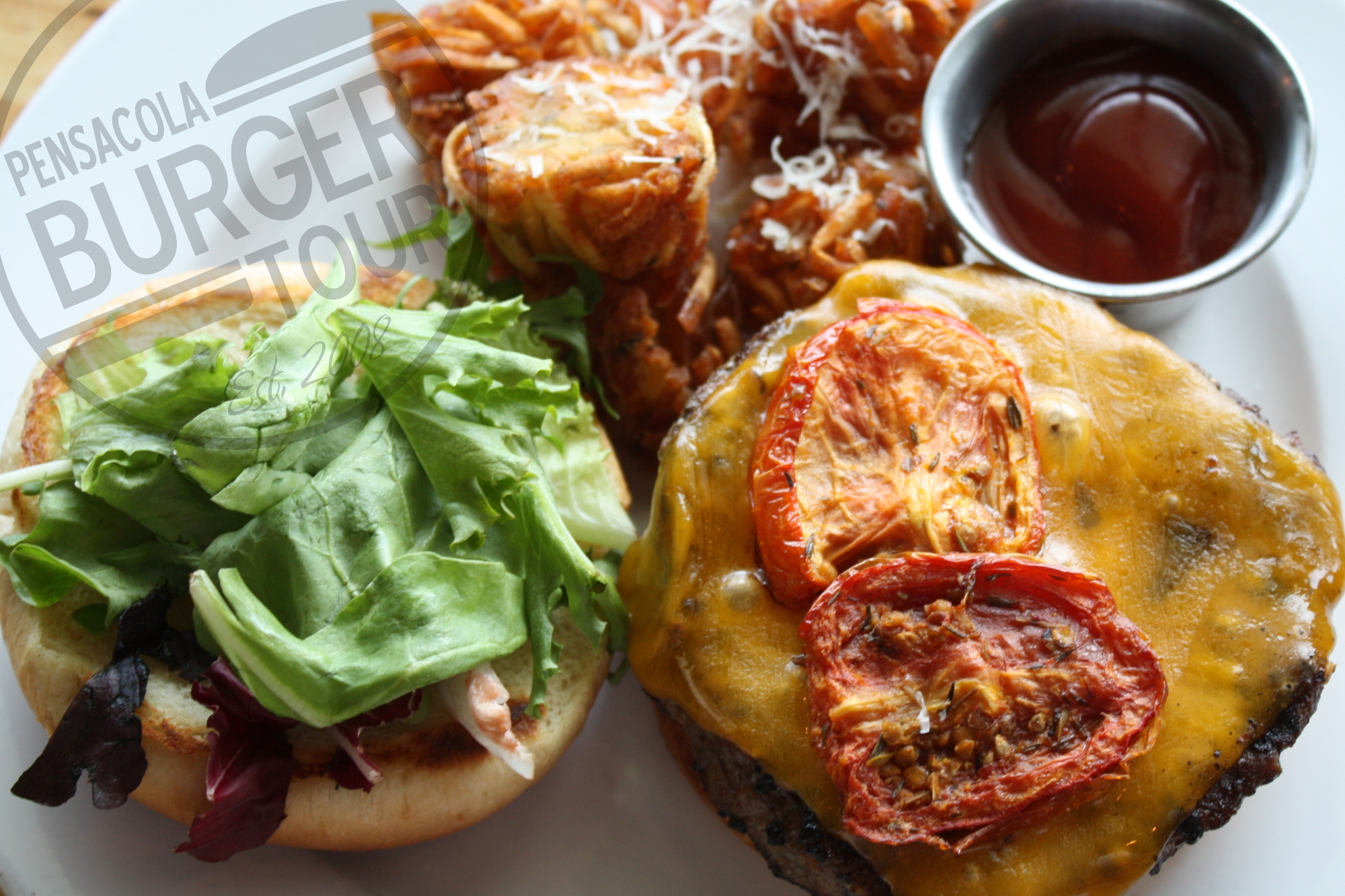 Pot Roast & Pinot
321 E Cervantes St, Pensacola, FL 32501
Burger: $10.00
Here at the The Pensacola Burger Tour we take recommendations from our followers very seriously.
So, when a follower named Tom said Pot Roast & Pinot was the best burger he's ever had- it peaked our curiosity.
"Where is this place? What's it called? Never heard of it" were the responses from our Panel Members.
That folks, is the very reason the Pensacola Burger Tour exists- to accept your recommendations- find new places- sample the burger and validate any "best burger" claims.
So, get ready Pot Roast & Pinot (PR&P.)  We aren't here for the chic atmosphere or the expansive wine list- we're just here for the beef.
The burger at PR&P is described as "brisket, short-rib, oven-dried tomatoes, brioche."
Diners have the option of adding "Foie Gras" for an additional $9.00.  Since we have no idea what foie gras is, we politely declined.
If you don't know what foie gras is either, click here for an explanation.
The burger arrives topped with a melted cheese of your choice (we selected cheddar) oven-dried tomatoes and a handful of lettuce.
Our Accountant was the first to dig in.  He set the top bun in place and gently pressed downward.  As he did the patty gushed with juices.
Whoa.  You had me at gushed.
The first bite of this burger is magical- a buttery bun, melted cheese and delicious beef with the smoky char of a backyard grill.
The beef is rich in flavor, tender and juicy.  The oven-dried tomatoes are unconventional but received high praise from almost every Panel Member.
The brioche bun is buttery and soft yet substantial enough to hold up to the patty.
"This. Burger. Is. Fantastic!" said our Accountant with a contemplative pause between each word.
The PR&P Burger drew high praise from every Panel Member and had several judges throwing around their highest scores to date.
The only criticism was the lack of a pickle and/or onion.  A sour dill pickle or a crisp red onion would have complimented the flavors nicely.
That said, this burger is incredible just the way it is.
If this burger isn't in our Final 3, it will be shocking.
At the end of the day the PR&P burger finished with a score of 8.58 which is enough to put it in first place (for now) by a significant margin.
Check it out and let us know what you think.  Order the homemade Tots.  They're amazing.
Then check back next week as the Pensacola Burger Tour rolls on.