TOUR STOP #9 STEAK AWAY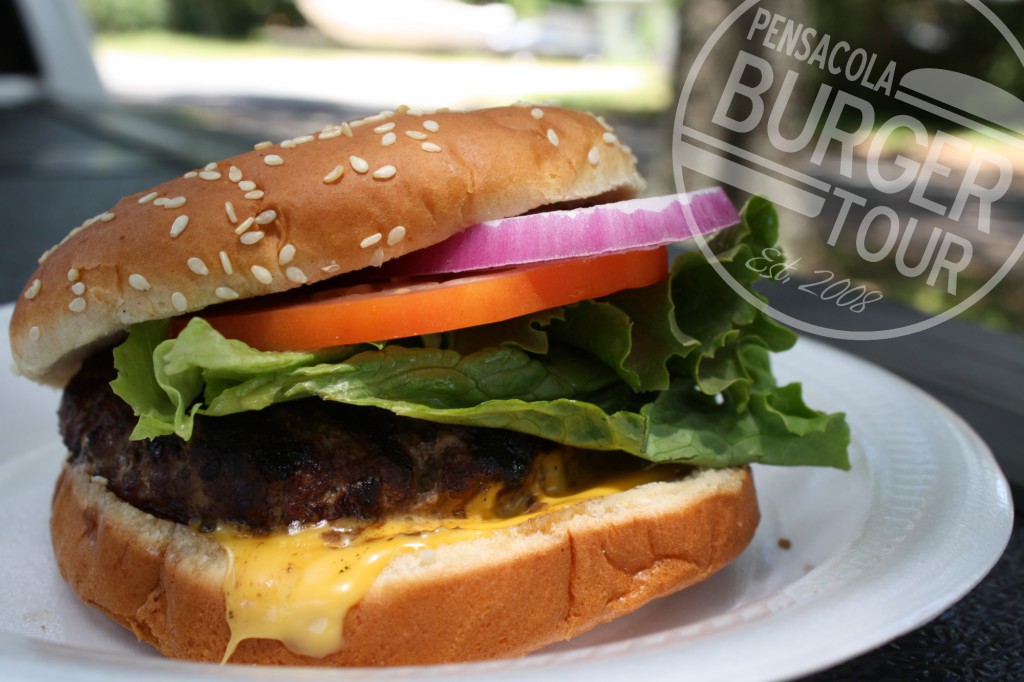 Steak Away
6404 N 9th Ave, Pensacola, FL 32504
Famous 7 oz. Burger: 7.29
The Pensacola Burger Tour is about one thing; BEEF.
And you know the rules; we're not concerned with ambiance, courtesy of the wait staff or the cleanliness of the restroom.  Our only concern is TASTE.
So how would we follow up a visit to a fine-dining restaurant like Pot Roast & Pinot?
Simple; by trying a blue collar burger our fans tell us is amazing.
This week we dropped in on a take-out steakhouse.  Yes, a take-out steakhouse.
You may have driven past Steak-Out on 9th Ave and thought "Really!? Take Out Steak?"
Sounds crazy, right?  Yes.  It is crazy.  But it's delicious.
The folks at Steak Away (formerly Steak Out) on 9th Ave share our affinity for beef.
I mean, where else can you get a 16oz Ribeye to go!?
We've received a number of emails about this burger and this week we had to drop in to check it out.
The burger at Steak Away is flame kissed before your very eyes on an open grill visible from the counter.
The smell of smoke and beef fill the lobby and start your mouth watering as you walk in the door.
The burgers are cooked to order, seasoned perfectly and have that incredible smoky back-yard burger flavor.
We ordered the classic 7oz but they offer a 10oz, 14oz and even a 20oz burger they call "The Behemoth."
Topped with American cheese, fresh tomato, lettuce and onion- our Yankee took one bite and said "This is the best Whopper I've ever had."
Several judges agreed.  The flame broiled patty is everything the Whopper promises to be- only better.
Served on a poppy seed bun the similarities to the Whopper are striking.
Our Banker loved it- calling it his second favorite burger of the tour.  He appreciated the fact that the burger was well seasoned and called the produce "best on the Tour yet."
The burger at Steak Away finished with a final score of 7.39 which is good enough to land it in the Top 5 (for now.)
So check it out.  Let us know what you think.
Then check back next week as the Pensacola Burger Tour rolls on.