Bonefish Grill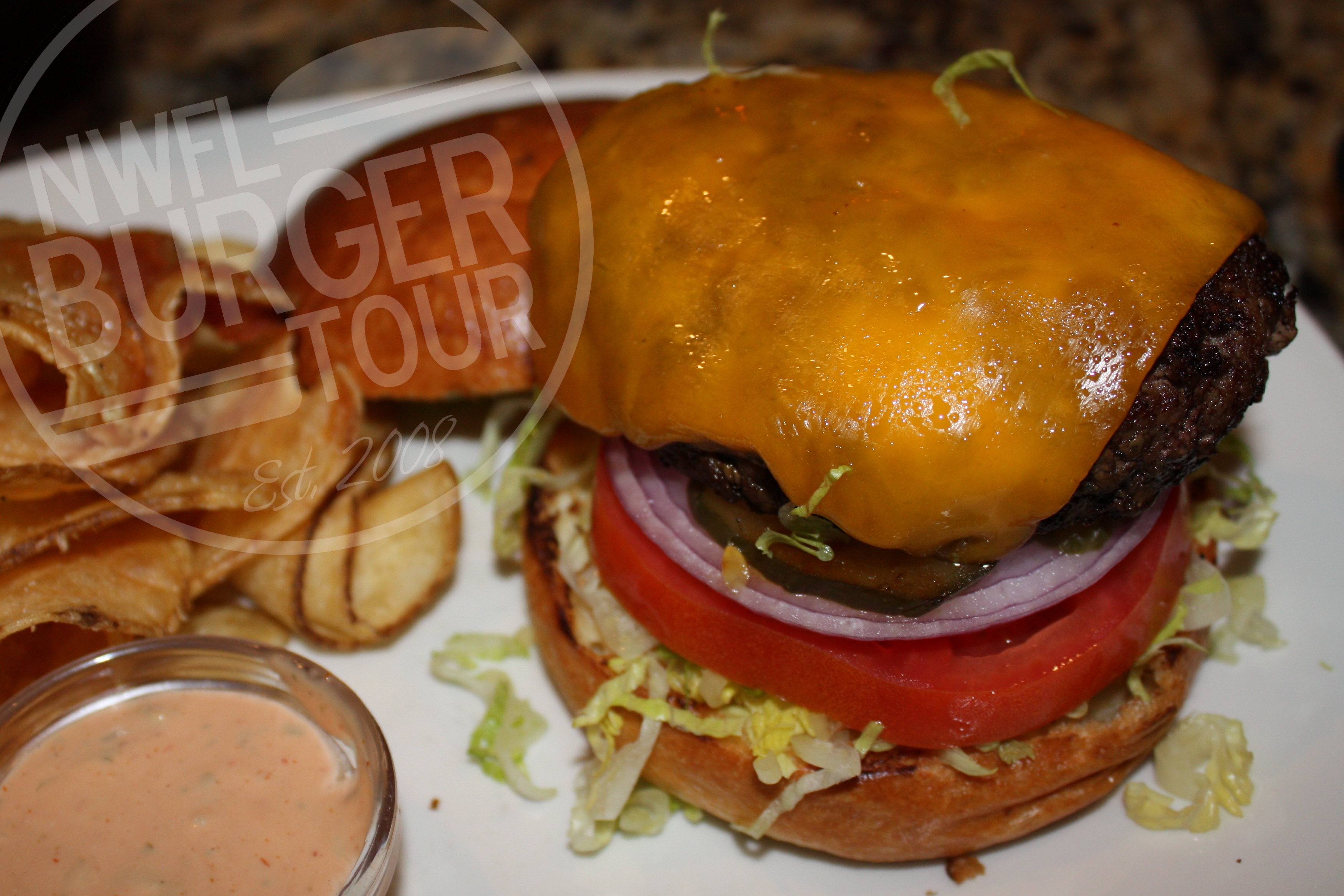 It would be a tragedy if the best burger in Northwest Florida were at a CHAIN restaurant.
It would be even worse if the best burger in Pensacola were at a chain SEAFOOD restaurant that's only open for dinner.
Potential tragedies aside, this Tour isn't about restaurant size, hours of operation or primary menu items.
This Tour is about one thing; Beef. 
This week our Panel evaluates the "Bonefish Grill American Style Kobe Beef Burger" (hereinafter referred to as the BFGASKBB.)   This burger was in our Top 3 last time around- so we arrived with high hopes.
Since this is the longest name we've ever seen for a burger, let's break it down:
Kobe refers to delectable cuts of beef from Waygu cattle in Japan.  Kobe beef is considered a delicacy; famous for it's flavor, tenderness and marbled fatty consistency.  However, true Kobe Beef is not available outside of Japan.
Thanks, Japan.  You're willing to share Hello Kitty and Pokemon but keep Kobe Beef for yourself?
"American Style" (not to be confused with Gangnam Style) is a nice way of saying "like Kobe, only not."  It's like saying you ate an American Style Swedish Meatball, bought an American Style English Bulldog or you're having an American Style Brazilian Wax.
It's a knock off, folks.  Not the genuine article.
That said, few of us will travel to Japan, sample Kobe Beef and report the difference.
So; we must take The Bonefish Grill's word for it.
The BFGASKBB is presented as a stack, a mouthwatering tower of beef, cheese, veggies and bread.
The patty is served on a buttered brioche bun which is soft and delicious.  It holds up well to the other ingredients and serves as a perfect vehicle for transporting the burger from plate to face.
The beef in this burger is noticeably more tender (tenderer) than ordinary 80/20 chuck.  It's loaded with flavor and crumbles as you take each bite.  The cheese is sliced thick and the melt coverage is really quite impressive.
The BFGASKBB was met with equal parts positive and negative feedback from our Panel; One Judge sat amazed that a chain restaurant could deliver such a top notch burger.  Other Panel Members agreed "This is good, but I remember it being much better."
As we've noted at previous Tour stops, a dash of salt and pepper might have elevated the taste of the American Style Kobe Beef and the overall flavor of the BFGASKBB.  Also, the produce was some of the worst we've seen this year.
The burger finished with an impressive final score of 8.03 and remains one of the best burgers in Pensacola- just not THE best.  Sadly, this score lands this burger just outside of our Top 3.
Check out the BFGASKBB and let us know what you think.  If you're in Japan- let us know the difference.
Then, check back next week as the NWFL Burger Tour rolls on.