Tops Choice Hamburgers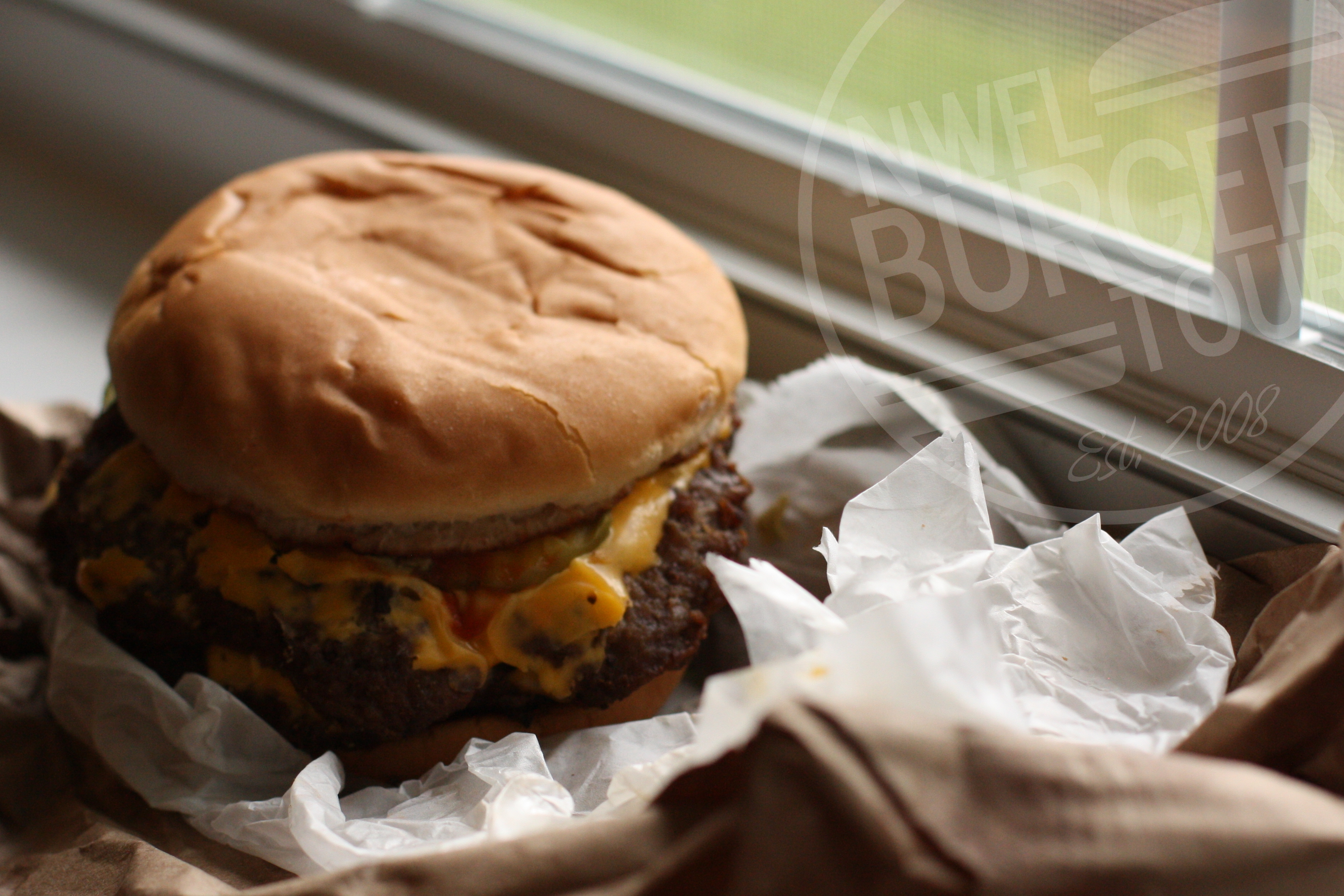 Tops doesn't look like much, but there's always a line of cars out front.  We wanted to find out why.  You can use their drive thru or walk up to the short window and place your order.
The "brown bag special" is a cheeseburger, fries and a drink.  Ironically, it's served in a brown paper bag (much like ones we used before the days of Justin Beiber lunchboxes and Twilight Thermoses.)  However, this lunch bag is saturated with grease and hamburger juice the moment it's handed to you out the window- just the way like we like it.
The Tops burger is like a homemade version of the Whopper at Burger King.  It's exactly what you'd expect from a drive thru burger joint handing out brown paper bags.
It's one of those "better than fast food" burgers that gives you the impression you're getting a home cooked burger.  It's tasty, but not in the same category as some of the other burgers we've had in Pensacola thus far.
The bun is fresh and soft.  The produce is average (although topped with the dreaded shredded ice burg lettuce.)  The patty is a thin, clearly frozen flower shaped patty.  It was overcooked and relatively tasteless.  I know it sounds like we're being negative here, but we're not.  It's honesty.
Listen, we've met some people who swear Tops is the best burger in Pensacola and would fight you over it.  That's what's so great about the "best burger" debate.  Everyone can be right.  Seriously.  When else does that happen?  Never.
Everything we do in life seems black and white.  Most of the decisions we make are either wrong or right- but the Best Burger debate is all a matter of opinion.
I met a trucker one time who swore the best burger he ever ate was at a nameless diner along Route 66.  My uncle swears the best burger he ever had was outside Fenway Park at 1:00am.  You know what- they can both be right.
Look, if your favorite burger is served at a dimly lit bowling alley- who are we to tell you it isn't the best?  Maybe it is; to you.
All we can do is render our opinion (9 of them) and let you know what we think.
The Tops burger has a cult following (and we mean that in a good way, not the Timothy McVeigh way.)  And we'll admit, when this burger is wrapped tightly in wax paper- the flavors do meld together to create a taste that is a little better than it would have been otherwise.  It's still not great (to us) but we can see how a very hungry, potentially homeless person would love it.
The Tops Burger received a final score of 6.29.  Not enough to top our list, but a good drive thru burger anyway.  Swing through Tops at lunch time- just don't set the brown bag on your new khaki dress pants!
Check back next week as we continue our quest and the NWFL Burger Tour rolls on…